In 1961, there was Breakfast at Tiffany's. Fast forward 50 years to 2011, and we have Breakfast at Topshop. Topshop has perhaps become another haven where many ladies spend their time, wandering through aisles of covetable clothes, bags, shoes and accessories.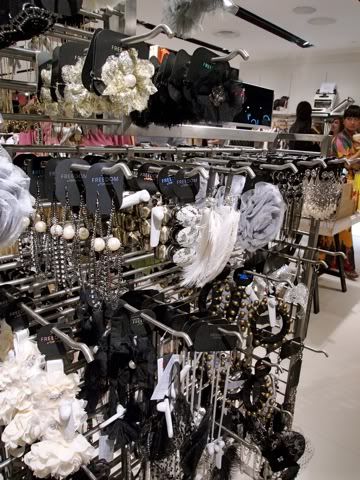 On Saturday, Fir and myself had a chance to do this first thing in the morning. And no, we did not spend it peering through the shop windows, eyeing the pieces on the mannequins with envy, Audrey Hepburn style. Instead, we were invited to the Topshop Personal Shopper Breakfast Event.
The highlights of the event included a short talk by Anny Lin, Personal Shopper at Topshop Knightsbridge. She took guests through the latest trends and collections in Topshop this Spring/ Summer. There was also a guest appearance by style maven, Ginette Chittick, who gave us her insights on what her style is all about. It was definitely inspiring to see her in the flesh and to get a better sense of her style. Unfortunately, we were stuck at the back of the crowd and could not get a better view!
Accompanying the talk was breakfast which came in the form of pastries, scones, fruit tarts as well as very delectable trays of chocolates. And of course, there's no better way to start a morning than having a nice cuppa coffee while checking out the latest pieces that have hit the shelves of Topshop Knightsbridge.
Of course, no fashion event is without its share of fashionable people. Here are a few of my choice picks.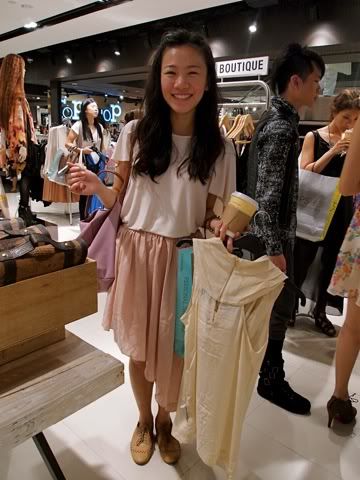 Fir's friend, Gen, doing some shopping!
And who can forget Topshop's Personal Shoppers who can help you transform your wardrobe from drab to fab? We managed to get a shot of Anny in her outfit here, and if her outfit isn't proof enough of great fashion sense, we strongly suggest you make an appointment at Topshop Knightsbridge with her!
Thank you Topshop for the invitation to this great event! We definitely had a good time!
♥
Fal