Fal and I have casted our votes and here's Fal's choice trend for the summer. Swedish Summer. This style brings us back to the whimsical 70s, to the folk tales, to the lazy countryside with dirt paths and vast green meadows. Whip out the crochet accessories, denim dungarees, floral prints, white fabrics and washed leather and have fun mixing and matching these together for a laidback, romanticised outfit.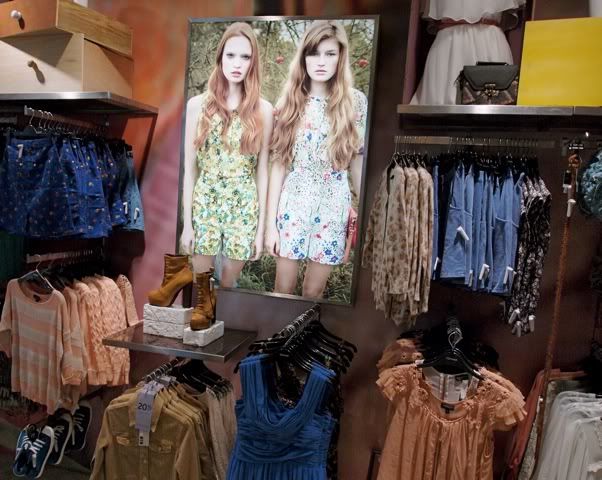 Take a trip down to snake valley and you'll see snakeprints, paisley prints, feather details paired with fringed leather and washed out suede. This is no look for the timid as the snake valley girl is tough, daring and free spirited. I like this tough, hardcore and take-no-nonsense personality but I have a slight aversion to snakeprints. I did mention in passing to Fal that a combination of snake valley with swedish summer would be fun too; some dream catcher accessories with some tie-dye chiffon and frayed denim with worn brown leather.
Nomad on the other hand, is more forgiving than the tough love from the Snake Valley bad-ass. There's more white but kept edgy with metallic accessories and printed tee shirts. I've got my eye out for the Zodiac Symbol T-shirt because of a sudden renewed interest in star signs (haha), triggered by eager friends (Twitter addicts no less) retweeting ZodiacFacts, some of which are pretty accurate.

What I like most about this season is the liberty that one can take with prints. Every collection has seen an abandonment of rules with prints and the season has shown just how interesting and fun mixing and matching can be. To learn more about to latest collections at Topshop, you can pick up a complimentary Topshop magazine when you're there for some shopping the next time.
Of course lots of tough love could go your way if you take this look overboard. Or any other style for that matter. Fret not! If you're intending to buy your clothes from Topshop then just send your S.O.S. to Topshop's Personal Shoppers. This is one of the concepts Topshop pushed on Saturday to complement their fabulous collections. Topshop takes its cue from the luxury fashion labels and starts tailoring not only the clothes but its service to the customer (us). What this does is add a personal touch to the high street label, enhancing the in-store experience. These days when shopping online on wildly popular sites like ASOS is so easy and convenient (free shipping!), what differentiates the physical store from the online experience is firstly, the attention to sensory detail and secondly, the so-called human 'touch'. Personal shopping is this human element that is important aside from all sensory fulfillment which is what we see, hear, feel and smell such as the aesthetically pleasing store, background music and luxurious fabrics. The personalised treatment makes anyone feel like a VIP and such a personalised human element in the physical store is certainly a new concept for high street brands; Zara, the most popular high street brand by far, does not offer anything like this.
Oh of course, how could I forget the sandals that I am stalking/lusting after from Topshop UniQue.