A very late update on the Best Of British fashion showcase for A/W12 which Fal and I had the pleasure of attending quite a few weeks ago. Due to a host of pressing deadlines spot smack in the middle of April, I wasn't quite able to get down to this piece of work, regretfully. Thankfully, the images stayed fresh in my mind; indicative of the impression that these British designers have once again left on me.
Upon walking through those familiar wooden doors, the first rack already caught my eye with the plenitude of prints, symmetrical, animalistic, embellished or embroidered. As usual, the cosy arena was alive with the inspiration and magic brought to life by the foresight and creativity of these British designers. British fashion has often struck a chord within me, as much as the Italian couturiers, for their experimentalism and fearlessness.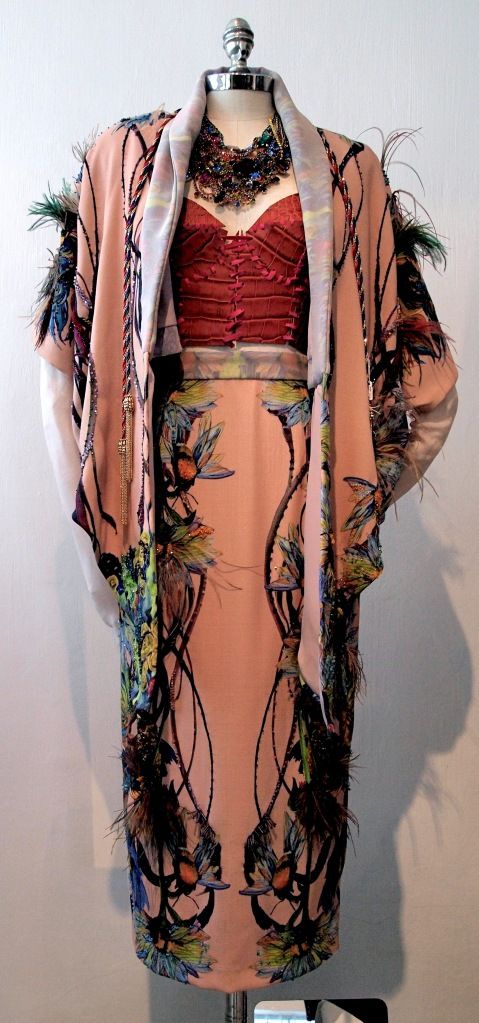 Hermione de Paula, who worked with Christian Dior Couture, Alexander Mcqueen, John Galiano and Giles, is not new to the scene for she launched her ready to wear label in 2008. She takes floral prints and with a signature twist, turns them into unique pieces which resonate with playfulness and individuality, femininity and dynamism. Each collection is based on an unconventional female character, and A/W12 is no exception. This season's muse is Hermione's dark Lolita, Maguerite, a twisted English flower who is an unconventional collector of sorts whose dark passion lies in her menagerie. Hence the animalistic twist to the unique florals on each piece and the fascinating collection entitled Marguerite's Menagerie.


Some trivia for menagerie. Originating from 17th century France, the menagerie was what the aristocratic nobility owned to house their common and exotic animals and plants. It was considered the ultimate establishment of luxury and curiousity. One glance at Maguerite's Menagerie will evoke that same sense of decadence and inquisitiveness from the luxe fabrics and the unusual prints, with fish tails as petals and metal or ice as flowers. To add to the surrealism and decadence of the collection brought to life by monkeys, exotic birds, bejewelled bees, and glossy fish, Hermione used hues reminiscent of the Northern lights and precious stones. Vermillion, turquoise, magenta, burnished oranges, creamy peppermints and peach tones show themselves as perfect complements to the printed accents.
Hermione de Paula's fashion credentials are outstanding, having acted as print consultant to Nicholas Kirkwood as well as collaborating with the same designer on the recent Keith Haring collection which launched the Nicolas Kirkwood flagship store in Mayfair, UK. She has also sown in other parts of Asia, Bangkok, South Korea and Tokyo as well as Saudi Arabia following a showcase at the SS/11 London Fashion Week installation at Liberty in London. We should definitely expect to see more of Hermione de Paula and her fascinating muses in the near future.
T'is the season of decandence for sure. St Erasmus is another designer label that is as decadent as it is artisanal. Hailing from South Africa, designer Pieter Louis Erasmus has culminated the influences from the textures of the African landscape with edgy London, stylish Paris and exotic India to create a cross cultural line of jewellery that reflects the multi-cultural influences that we embody in this multi-cultural globalised world. St Erasmus is unique for its 3D statement style that mixes traditional artisan techniques and skills with contemporary forms and materials.


A/W12 for Erasmus was inspired by Marie Antoinette, the 18th century French Queen who lived in a time of social change, who was independent and stylish yet restrained. Each handcrafted piece is a statement in itself, embellished and encrusted with Swarovski crystals and crochet in St Erasmus's trade mark Zari thread crochet. The collection transcends fads and whims of the trends and seasons and focuses instead on the wearable elegance and beauty of each statement piece for the independent and influential woman.

Fashion has always been about showcasing the woman with her mystique and beauty in clothes that are equally beautiful and intricately made. Amid the decadence and luxury, the woman, as recent fashion shows, also takes form as a modern and independent individual who is not only beautiful but with a mind of her own. Frivolous or not, fashion is a form of soft feminism that should be taken seriously.



♥,
Fir