"September is the January in fashion."
This year, I somehow remembered that September was at my doorstep, and reminded myself to get a copy of the September issue of Vogue, which happens to be as thick and heavy as an encyclopedia. I spent Sunday afternoon pouring through the magazine, or should I say fashion encyclopedia, and feeling very inspired after that.
I think I revered the September issue of Vogue a little more this year after I watched the documentary film 'The September Issue', which was a peek into Anna Wintour's life as well as the assembling together of 2010's September issue of Vogue. If you love fashion, you simply HAVE to watch this (I thoughtfully put the trailer below).
Documentary film aside, here's a peek into what I really like in this coming month's issue of Vogue.



























Featured on the cover is Kate Moss, and within the magazine, you'll find a whole fashion spread/ photoshoot of Miss Moss' very lovely wedding in the English countryside. Vogue flew two of its photographers to Cotswold to take her wedding photos. With her gown made by John Galliano himself and her gorgeous photos featured in the September issue, Kate Moss is one lucky woman.
Then there's Karlie Kloss' fashion shoot in Beijing.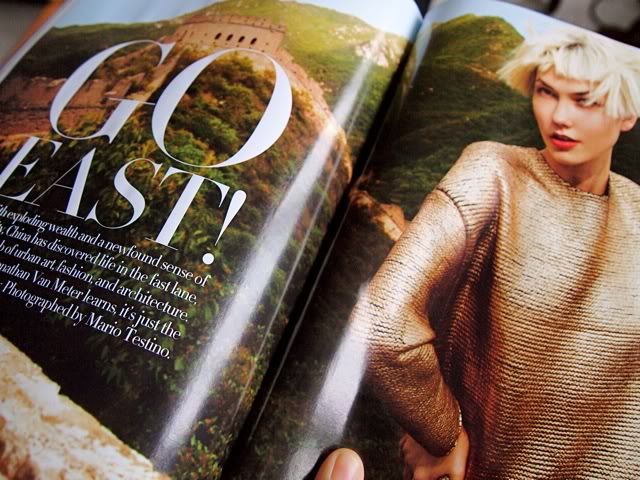 What caught my eye though, was a write-up on designers closely identified with a certain aesthetic, and the five different personalities that have emerged from such an aesthetic, namely, the romantic, the modernist, the bourgeoisie, the artisans and the subversives. Try making a guess on which designers have been catergorised under the personalities above.
While I've listed some of my favorite articles in this month's magazine, you'll find other interesting features within the magazine. So go get your hands on the September issue of Vogue now.
♥,
Fal