I was watching Australia's Next Top Model on Starworld and that's where I got to really see what the hype was behind the couture label, J'Aton. I was blown away by the details on their gowns featured during the programme.
"We dress women the way men want to see women dressed"


Founders and designers Jacob Luppino and Anthony Pittorino launched the label in 1995 and they started small, making just enough to buy materials they needed like sewing machines and other equipment. Slowly, the label began to gain a reputation for attention to detail and skilled craftsmanship and today, J'Aton has become synonymous with gorgeous bespoke evening and bridal wear. Both designers come from Italian families and their uncanny ability to understand each other has allowed this dynamic partnership to bear fruit.
Their contemporary couture, gorgeous draping and breathtaking detailing has won them awards such as the 2009 Prix de Marie Claire Awards for Best Eveningwear Designers and several other Australian Gown of the Year acknowledgements. A favourite among Australia's society and the elite, J'Aton's celebrity clients include Dita von Teese, Charlize Theron, Lily Cole, Delta Goodrem, Kylie and Danni Minogue and Rebecca Twigley.


Andrej Pejic for J'Aton Couture
J'Aton opened first in Ascot Vale in Melbourne then moved to Prahran five years later so the designers could expand their client base. Being so incredibly successful, the label has made plans to move to New York but the much anticipate move was, sadly, delayed because of the losses incurred as a result of a fire at the label's showroom at Greville Street. Enter the J'Aton bridal salon and you'll find it unique from other ateliers. There is no showroom overflowing with sample gowns, instead customers can expect a small selection of intricate couture gowns that represent the feel, style, craftsmanship and fit that J'Aton has become known for.

Inspired by classic designers like Christian Dior and Charles James. They like to keep femininity in their gowns whilst also incorporating elements that their clients want. The advantage then, is that the designers are involved right down to the last detail. The designers' hands-on approach has led to their popularity among their elite clientele, resulting in word-of-mouth recommendations and repeat clients.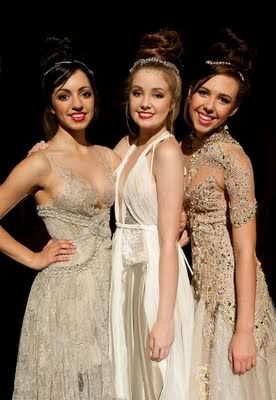 It comes as no surprise then, that the designers work through appointments only for both consultations and fittings. Luppino and Pittorino meet with each prospective client to see if they get along before another appointment is set up for sketching and discussion of other details. Every client speaks directly with either designer and each gown is carefully sewn in small teams. Each gown is therefore a collaboration of both the designers' aesthetic and the client's vision. Most gowns take about six months to create and brides-to-be are asked to commit to at least four fittings. The duo are open to alternatives if for example, the bride hates lace and beading. However, both designers feel that the clients' minds can be changed especially since "its usually because of how they've seen other people design with it" that causes a definite adverse reaction to certain design elements.
J'Aton is located at 185 Greville Street, Prahran.




♥,
Fir