Fal and I attended Aldo's Fall Collection launch, Get Lucky, at Zouk last night. The showy Vegas theme suited the glamorous shoe collection to the tee. The event was slated to start at 7.30 in the evening but as the saying goes, good things come to those who wait. So wait we did for more than an hour. Hors d'oeuvre and drinks were served of course and attendees were invited to take a closer look at the Fall shoes at the display next to the runway.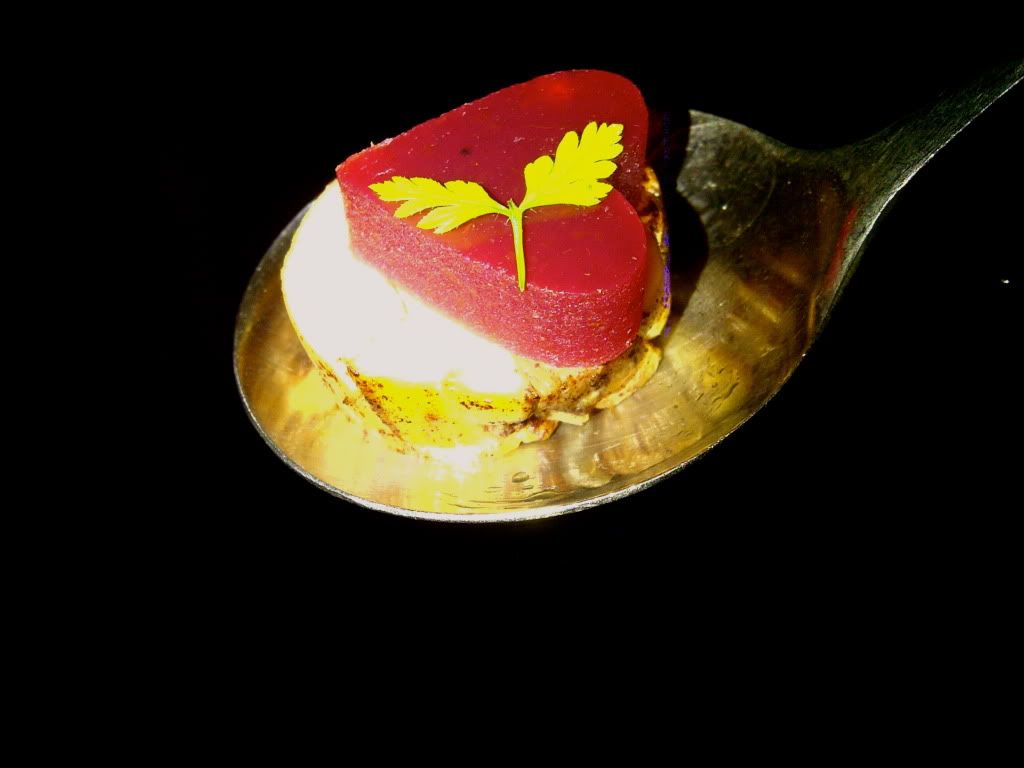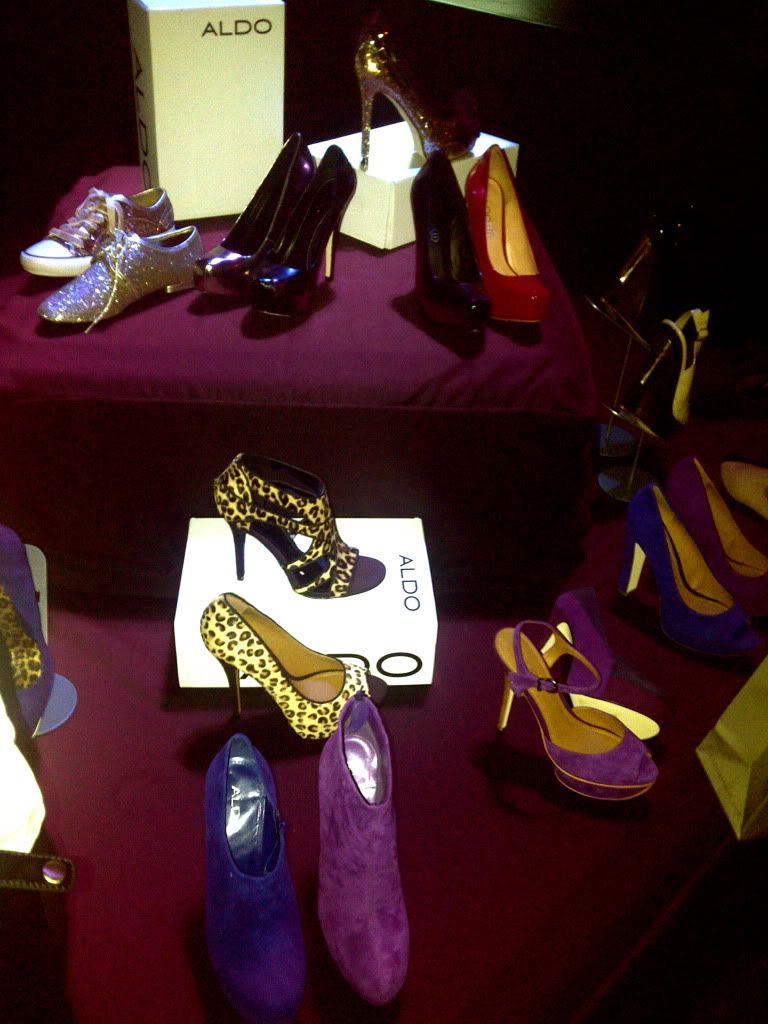 Oh, Aldo also had a couple of waiters walking around serving the ladies some sexy heels. These are Aldo's Mcintyde retro heels, perfect for divas and divas-to-be, made extra feminine with a pretty bow at the toe. I tried to persuade Fal to take a picture with him instead of taking a picture of him but she stood her ground this
time (haha).
The show opened with a bang; a sexy and energetic dance number that closed with fantastic popping and locking by two male dancers. The female dancers donned black mini dresses with playful fringed skirts, keeping the 'hooker' at bay with sheer black stockings instead of fishnets (those would have crossed the line). The highlight of the dance number of course was not the dancing as much as the shoes. The dancers wore Aldo's Colour Pop soft suede pumps in 5 different colours, red, teal, magenta, plum and electric blue. The dance number sure proved that Aldo's pumps are perfect for dancing the night away as vigorously or energetically as you like.
The models looked great in one-piece black corseted bodices onto which mini skirts made with lots of black tulle were attached. Actually, their dresses reminded me of ballet costumes worn on stage, fitted bodices and tutu skirts that show off a dancer's legs to their fullest.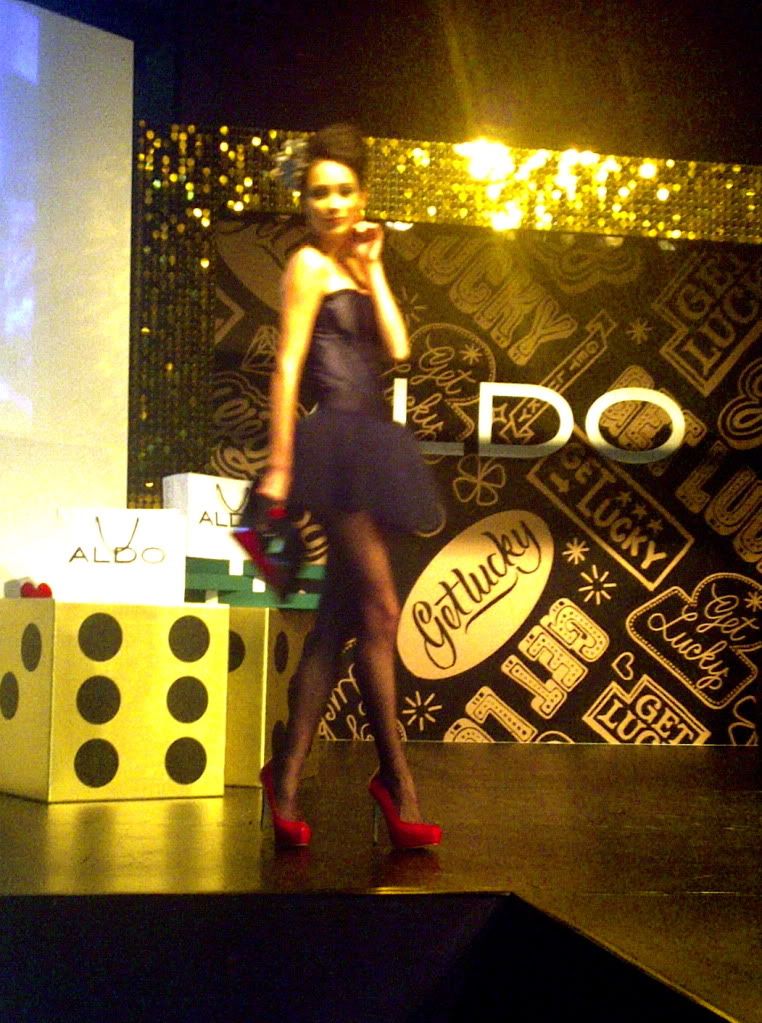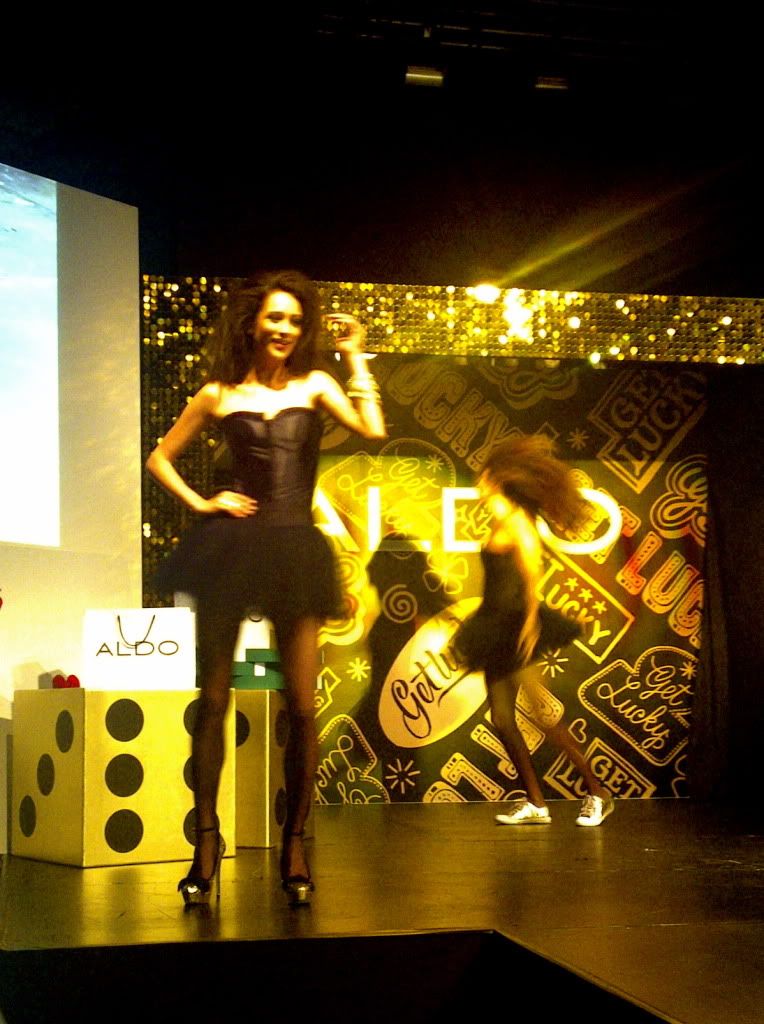 Sexy, skyscraping legs aside, the shoes were well displayed and the playful theme was carried through right to the end of the show. Suede, snakeskin and leopard prints were the anchor themes that were featured, reflective of the trends that are hot this Fall season.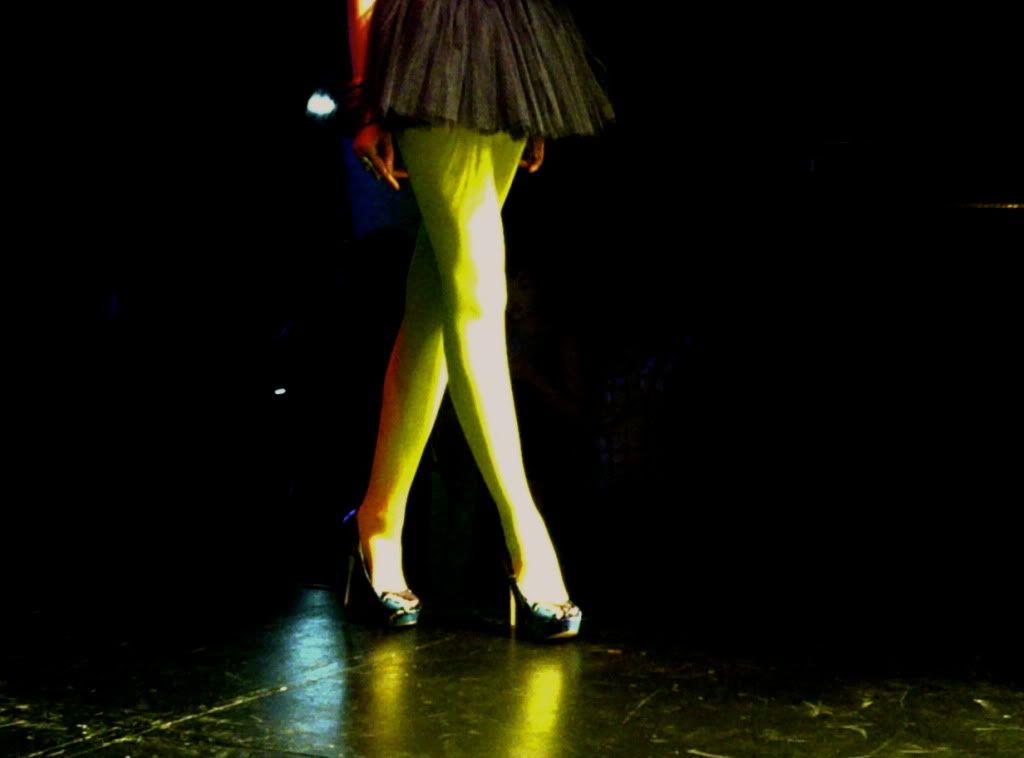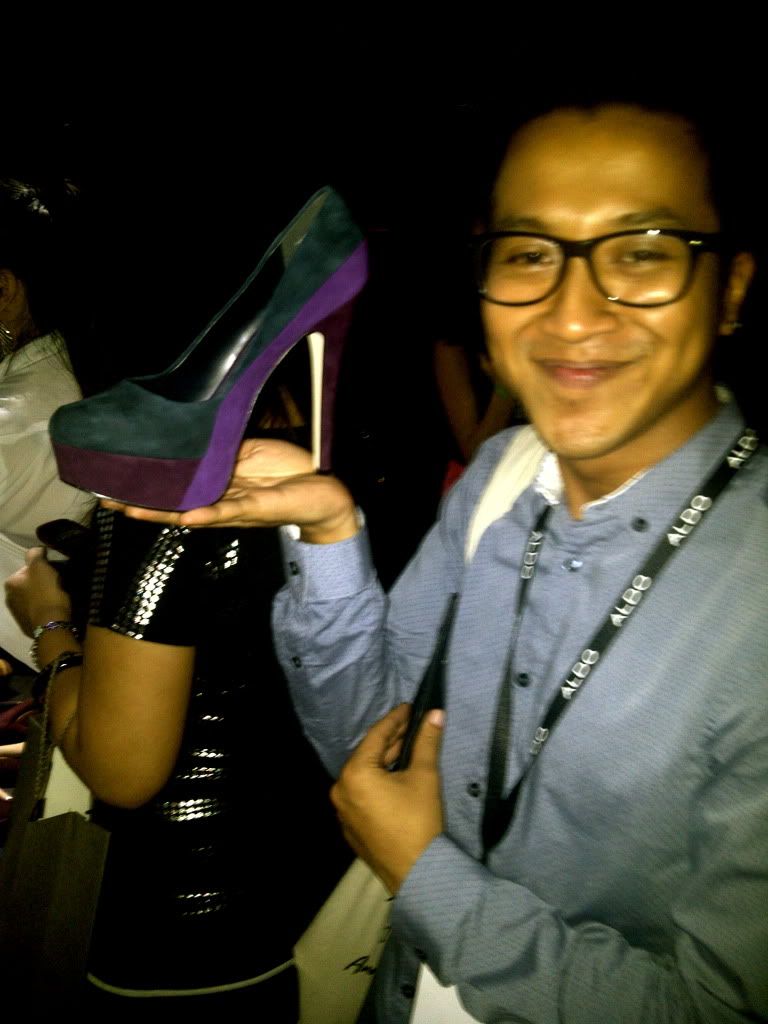 Feveravenue's Adam Kerr serving up some suede goodies.
The Childres in gold is my absolute favourite. I will be trotting down to Aldo soon with my 20% off voucher courtesy of Aldo to bag myself these bling bling shoes, retailing for $109. The one I had an issue with is the red, patent Bremseth. It did not pass my 'hooker test', so to speak. So vampish. I told Fal I'd look like a dodgy showgirl if I were to wear those.
There were some prizes to be won of course as is the norm with most bigger fashion events and collection launches. Aldo gave away vouchers for the best dressed of the night, as voted by the attendees. I wasn't too psyched about the prizewinners though. In my book, the few who were shortlisted weren't impressive at all, there were so many others who were much better dressed than those on the runway. I guess they sure did "Get Lucky". There was a lucky draw as well. Honestly, I think lucky draws are the cheesiest and most gimmick-y trick to get people to stay on at any event. However, as cheesy and lame as they are, I cannot help but feel a tinge of excitement when the names are being pulled out and announced (haha). I guess the thrill of maybe having won something is always a fun feeling to experience.
Kudos to Aldo for a pretty successful event and thanks to Feveravenue as well for inviting us along. Fal and I hung out with the team from Feveravenue and hell yeah, we had so much fun.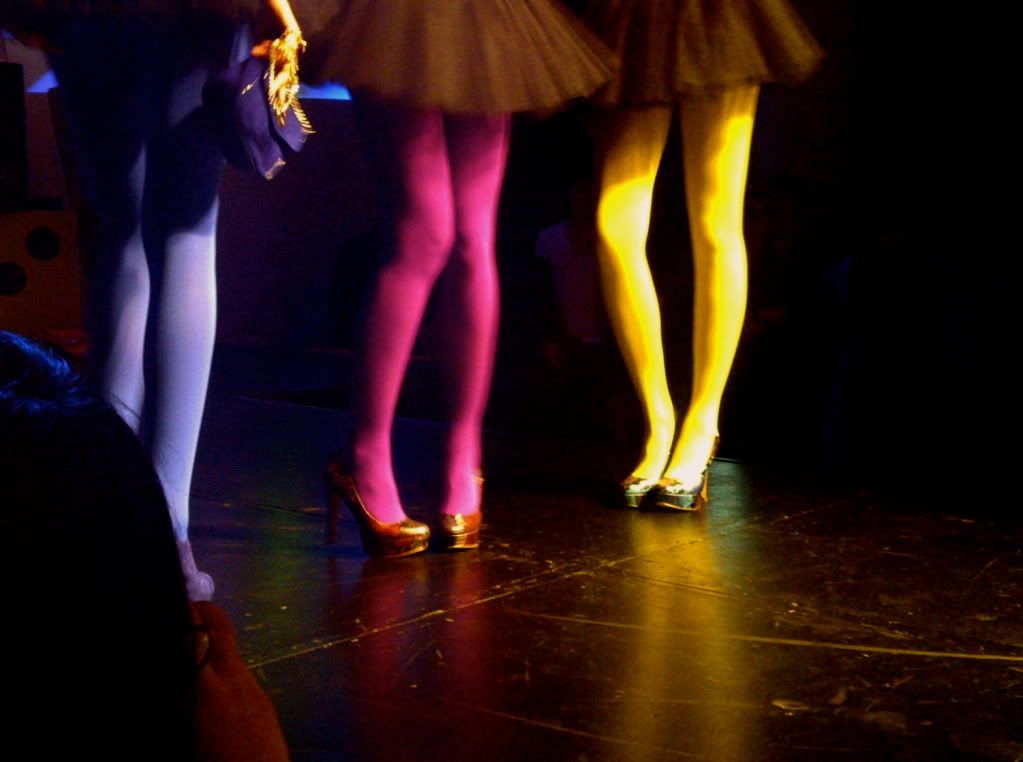 Lastly, Fal and I would like to apologise for the terrible quality of photos. The story: Fal left home in a rush this morning and I left home rushing like never before in the afternoon. Fal forgot her awesome Olympus and I conveniently left my Canon on my desk. Fal thought "Fir will bring hers" and I thought "Fal will definitely have hers" so we didn't bother making a trip back to grab our babies. Hence, the photos you're looking at in this post are all taken with our Blackberry smartphones. Photography was not a joy with these terrible cameras but we hope to have captured the event in its entirety as well as some of its energy for you to enjoy.
♥,
Fir